Photo: Jutharat Pinyodoonyachet
When Diego Moya was 14 years old, working at a deli on Long Island, he was sometimes tasked with making the Waldorf salad: Apples, raisins, walnuts, mayo — exactly what you're picturing. Lately, he's been making it again, but with the confidence and creativity that comes with decades of experience in professional kitchens, including stops at L'Arpège in Paris and as Casa Mono's executive sous chef. This version of the classic salad is not deli-style. First, the celery is blanched (to help it retain its color while removing some of its vegetal bite). The vinaigrette is made with walnut puree. Apples are cooked down into a jam, and added raw, as a nest of julienned strips scattered across the top.
Moya, the chef and culinary director for the Oberon Group, is dusting off the classic and giving it a new look for the menu at Clara, the hospitality company's new restaurant inside the New York Historical Society, which opens this week. It's a swerve for the company, which has so far found success with small, brownstone-Brooklyn wine bars — June, Rucola, Rhodora, Anaïs — instead of dining rooms inside Manhattan museums. Clara is not a grand hall, but it's got the spotlight — and rules — that come with a landmark. (No plants are allowed in the dining room, for example, because they might bring pests that could damage priceless art like Picasso's Le Tricorne, brought in from the former Four Seasons restaurant.) "We wanted to do things to kind of bring out the iconic nature of the building and create a really comfortable but majestic space," says Henry Rich, Oberon's CEO. The design takes its cues from the museum, as well as New York State's history. It's named for Clara Driscoll, a woman who in 2007 was identified as the designer of many of the original Tiffany lamps on display at the NYHS.
The menu follows suit, and Moya says he'd been looking for a chance to fuse his sensibility with the New York City culinary canon. "What we're trying to do here is kind of digging a little bit deeper into what someone would've done in the '40s and '50s had they known about the progress in farming practices in the Northeast or the better fisheries." He's also adding a lighter touch: For his take on lobster Newburg — the cream-and-cognac–sauced classic said to have been invented at Delmonico's — he starts with blanched and de-shelled lobster tail that's piped with shrimp paste, white pepper, and sesame. That's coated in rice flour, dredged in tempura batter, and gently fried at 320 degrees. It's paired with a root-vegetable pavé topped with the claw and knuckle meat warmed in a saffron emulsion. The sauces are a brandy-enriched lobster jus and egg-rich aioli. A bit of green comes courtesy of a tatsoi puree on the side.
"It's a dish that I wanted to tackle because I'm not the biggest fan of lobster," Moya admits. "It's very decadent and very stodgy — but I think it's something that can be modernized in a really great way."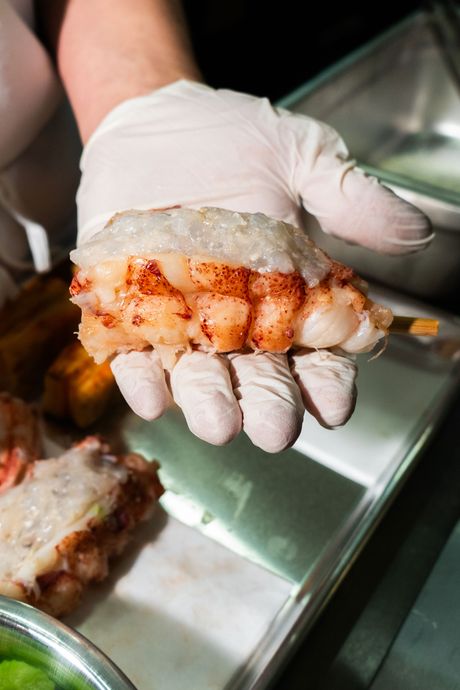 Other applications of this New York state of mind are less literal, and more abstract, such as gigante beans with shiso and sesame-miso cream that Moya says is meant to reference the proliferation of Chinese restaurants during the middle of the 20th century. Of course, there are oysters, too — served, with their cooking liquid, over polenta. To run the kitchen, Moya has brought one of his cooks from Brooklyn, Joe Gaglio, and the duo also nods to the city's longstanding fascination with French cooking — "If you're going to pull from the cuisine in New York from the turn of the century, and from the '40s and '50s, you can't separate the two," Moya says — with duck breast au poivre, as well as steelhead trout with French sorrel, a reference to the Troisgros family's famous salmon entree.
Desserts include Charlotte Russe and a dish that is, for Moya, inseparable from the New York experience: carrot cake. "It was like an Americana thing that my mom picked up when we were younger," Moya says. "She would make it to reiterate the fact that we were immigrants and that we had to assimilate." At Clara, the cream-cheese frosting will be given a slightly savory edge from the addition of Camembert, and carrot jam will be spread between layers of turmeric-raisin cake. "Usually, the carrots are kind of like a second thought," says Moya, "but we're really folding in a ton of them to really make sure that you're getting that flavor, as well."
Waldorf salad, plated.
Photo: Jutharat Pinyodoonyachet