It was nearly 1 a.m. when Novak Djokovic won his first-round U.S. Open match, a finish time that's common for the tournament's night sessions. That means that, over the next two weeks, many tennis fans will leave the Billie Jean King National Tennis Center asking themselves the same question: Is there anywhere open to go eat?
The answer is "yes": Izakaya Nana opened last month on Northern Boulevard and serves dependable Toki highballs till 2 a.m. every day (plus sake and pitchers of beer). There are semi-private rooms for larger groups; for everyone else, there's a welcoming bar in the center of the restaurant (decorated with a drum signed by Mr. Nightlife himself, Eric Adams) and solid snacks like chicken-wing yakitori, octopus with wasabi, and fried oysters. (Skip the $29 scallop roll with foie gras, however.)
For anyone willing to wander a bit further, I suggest heading to Flushing's K-town in Murray Hill, a 13-minute Uber ride from the tennis center. Much like Manhattan's K-town, you can find karaoke, fresh sashimi, barbecue, and one of the city's best dive bars. Most surprising is the number of businesses in this cluster of Flushing that stay open late. The best of this group, to my mind, is Hongdae Pocha, a three-year-old restaurant named after the neighborhood in Seoul. (Here's a link to a Google Map.) The dance music is loud, there is a cardboard cutout of a woman advertising some sort of peach-flavored beverage, and — behind the refrigerators stocked with soju and Korean beer — there is an extremely capable kitchen.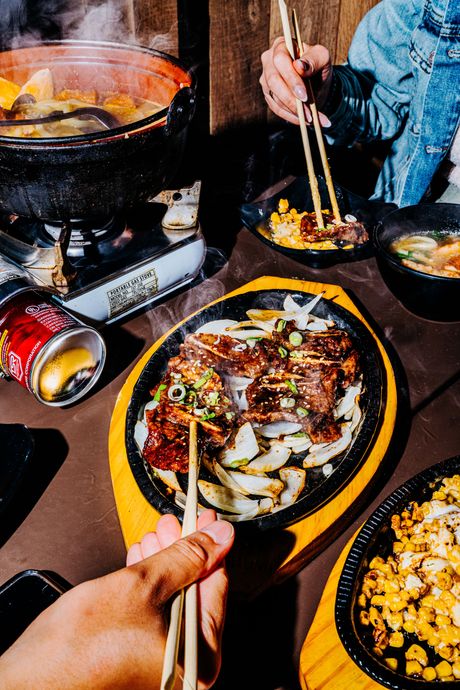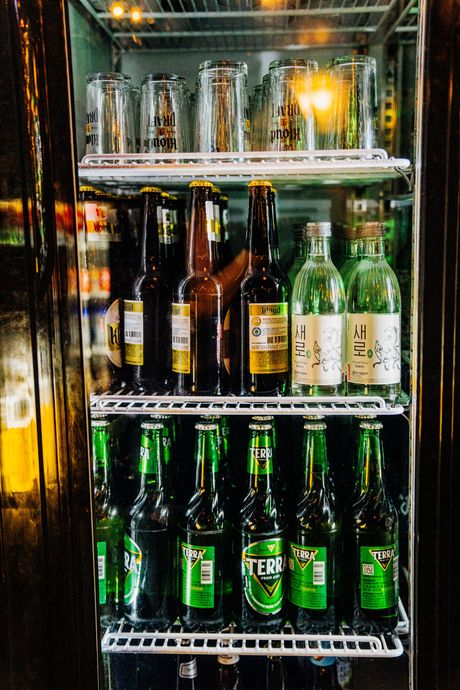 The general manager, Clara Lee, told me that all credit goes to their chef, Jaekyung Lee, who previously cooked in Seoul for a little over a decade and actually cooks the food himself all night long. The seafood pancake had an airy crust with bouncy bites of squid and shrimp; fried chicken was surprisingly most enjoyable in a salad of sorts: just-fried bites of boneless chicken tossed in a just-sweet mustard sauce, a shower of julienned scallion offering some sharpness on top.
There's an assortment of hot pots — army stew is the most popular — as well as hearty drinking food like barbecued pork and short ribs (plus fried ice cream, crispy and crunchy and set aflame at the table). At around 10 p.m., two separate groups were sharing bites of hot pots and regularly heading outside for smoke breaks — with no signs of slowing when I left a little before midnight. Lee, the GM, says a crowd can show up at any time, and they try to be ready. The kitchen closes at 2:30 a.m., and on weekends the room is usually still full at 3 or even 4 a.m.