A Tacombi pop-up in 2014.
Photo: Tacombi
At any of Tacombi's 11 outposts in New York, you can purchase carne-asada tacos and sautéed-mushroom quesadillas or guacamole and cold beer. Inside, the white-tiled rooms are uniformly pleasant. Whether you are at the store on Amsterdam Avenue or Bleecker Street or Austin Street in Forest Hills, you can find the same pineapple agua frescas and pastor breakfast tacos, which are — conveniently — "served all day!" according to the starburst note on the menu.
You'd be forgiven for thinking that Tacombi is simply a collection of restaurants. It is that, but it is more than that. Tacombi is a surprisingly efficient delivery and catering operation. Tacombi is very good prepackaged tortillas that you can buy at Whole Foods as well as spicy-chicken burritos in the freezer aisle. Tacombi is a nascent empire, and this year will mark the start of a massive expansion across the country. A year ago, Tacombi announced that it had received $27.5 million in a funding round led by Danny Meyer's Enlightened Hospitality Investments and revealed it would use that capital to expand to 75 locations over the next five years. Coming soon: Chicago, Connecticut, New Jersey, and Long Island. Tacombi could be the Shake Shack of Mexican food, except Shake Shack is merely a chain with enjoyable fast-food burgers, while Tacombi — according to its founder and CEO, Dario Wolos — is in the business of exporting Mexico to the entire rest of the world.
Wolos has an angular face, intense doe eyes, and a haircut that is somewhere between "downtown dad" and "religious figure." In 2006, he opened his first taco stand near the beach in Playa del Carmen, Mexico. He was 29. He did not know anything in particular about making tacos or the restaurant industry. And yet he had, at least in hindsight, been planning to open Tacombi for his entire life. He was born in upstate New York, his father the son of Ukrainian immigrants, his mother a native of Monterrey. As a child, Wolos moved to Mexico, where he was a natural interlocutor, showing off the country to visiting friends. "Their eyes would just pop when they saw this other side of Mexico," he says. "People thought we rode donkeys around!" Even then, he wasn't offended by this misunderstanding. Instead, he saw an opportunity.
As a sophomore at Cornell, Wolos took an entrepreneurship class, where he hatched a plan for a restaurant chain called Taco Rex. (This was a time when many Americans still associated the idea of "Mexican food" with Taco Bell and Old El Paso.) He wanted to build a company that could "solve this problem of people not appreciating Mexico for what it is but also not making it something that would be unapproachable," which is to say that tacos would be the medium through which he could convey his message. (The message: Mexico is great.) For the final presentation, his mother came in to help him cook. Then he left school and moved to London for a corporate-communications start-up.
In 2005, the start-up had been acquired, and Wolos was staying with a friend in Playa del Carmen. He was by this time talking seriously about launching his taco idea, though he had no restaurant experience and London was a catastrophically expensive place to conduct business. "My friend," Wolos recalls, "was like, 'Why don't you start here, in Mexico?' "
The specifics of Tacombi took shape the way many start-up ideas do: buzzed on mezcal in Tulum. Wolos was praising a sushi joint he'd been to in São Paulo that operated from a VW bus — or, in Mexico, a combi — and it suddenly became clear: Tacombi! Wolos went to Mexico City and bought a $3,000 combi he'd found online. He drove it back to Playa, where he drew up plans on PowerPoint and found a mechanic and go-kart racer to retrofit the thing. In February 2006, on $25,000, Wolos opened the first outpost of what was then called Señor Tacombi.
The original Señor Tacombi truck, in 2006.
Photo: Yvette Cardozo/Alamy Stock Photo
Señor Tacombi, the character, was an adventurer, Wolos tells me, a guy who gallivants through all of Mexico but is "always caring of the people." Neither the fictional Señor Tacombi nor the actual Señor Wolos possessed a professional-cooking background, but they did not see this as a problem: "I just started asking people who had some experience to teach me a recipe," which, at the time, was good enough. In 2008, Wolos opened his second location — not long before the swine-flu pandemic battered Mexico's tourism industry. He took this as a sign that he should relocate to the U.S.
The first Tacombi opened in Nolita in September 2010, when Wolos parked his original combi inside a warehouse that had been a clothing store. "It was just this very raw space," he recalls, which was perfect: This was the era of Edison bulbs and chicly eroding brick. Even still, Tacombi at Fonda Nolita, as it was known, was not without its problems. You bought tokens at one counter, which you'd use to pay for tacos at another. ("An unsuspecting passerby might wonder whether he's stumbled into a private social club, or inadvertently crashed some sort of backgammon convention," observed this magazine at the time.) There was no table service, Wolos's application for a liquor license had been rejected, and it was about this time that his casually planned and publicly announced partnership with the celebrity chef Aarón Sánchez, who lent some name-brand culinary cachet to the new project, "just kind of faded out." (Sánchez agrees: "It was really loose.")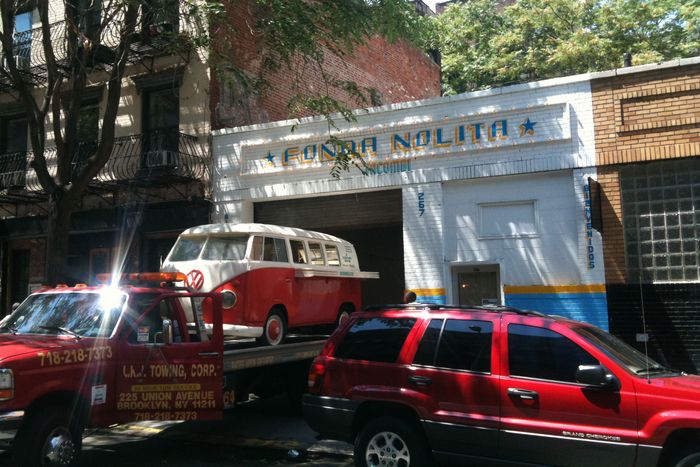 No matter. While an early New York Times review called attention to the "bright and fresh" corn-and-poblano tacos, Tacombi was never entirely about the food. It was a vibe with its strung-up lights and potted plants and Elizabeth Street customers perched attractively at folding tables on exposed concrete floors. A branch opened in Montauk and another in the Flatiron District, and it soon became clear that something needed to be done about the tortillas. Wolos had reached the limits of tortilla sourcing, and if Tacombi were to continue growing, he knew he'd have to move production in-house. The company began nixtamalizing its own corn, the ancient process that involves soaking maize in something alkaline, like volcanic ash or the chemical compound known as slaked lime (they went with the lime), before grinding it, thereby unlocking the true flavor potential of the corn. This was before a recent boom of regional Mexican cuisine in New York, when ambitious restaurateurs started nixtamalization operations in their basements. Yet even now, most restaurants don't do it because using 100 percent nixtamalized corn is laborious and expensive, but if you want the best possible result, it's also non-negotiable. Tacombi's flour tortillas were a separate project. Traditional recipes called for lard, and Wolos didn't want to use that — vegans, etc. — but he wanted the tortillas to taste the same. The solution, he discovered through extensive experimentation, was avocado oil, which, when you cut the wheat with cassava flour, achieves a similarly luxurious texture.
Elly Truesdell was the "Northeast Region Local Forager" for Whole Foods at the time. She liked the tortillas so much that she asked about getting them into stores. In 2016, Tacombi began delivering its Vista Hermosa–branded tortillas to city stores via the subway. (Truesdell is now a VC and a Tacombi investor.) The company opted not to use the name Tacombi for its grocery products because, from the beginning, Wolos envisioned something like a world of products that all seem to come from Mexico but really come from his company. Vista Hermosa (named for his grandparents' neighborhood) is tortillas and other pantry staples. Lupita (named for his mother) is soda. La Antigua (named for the town in Veracruz) is chocolate and coffee. When, this past fall, Tacombi launched a line of frozen burritos, they landed — after some not-inconsiderable debate — under the Vista Hermosa name because, though they are a spiritual departure for the tortilla brand, the burritos are ultimately "still trying to attract the home cook."
Eventually, the different labels are supposed to feed into one another, a dozen doors into the world of Tacombi. Searching for an analog, I suggest it might be Frontera, chef Rick Bayless's restaurant company that has a line of grocery products. But Wolos, who is always sort of in pitch mode, explains that I am thinking too small. "This is like Disney," he corrects me. "Except in our case, the metaphor for Disneyland is actually Mexico, and we didn't create it, so our job is just to borrow and share the best ideas from it."
Tortilla production.
Photo: Tacombi
While Tacombi was ramping up its grocery products, it was opening more restaurants: the Upper West Side. The Empire State Building. Fort Greene. Then D.C. Then Miami. One day, Wolos spotted Danny Meyer inside the Astor Place Shake Shack, inspecting his chain's then-new digital-ordering kiosks. Unprompted, Wolos asked Meyer to be his mentor, a request that the Union Square Hospitality founder politely declined. He had recently launched Enlightened Hospitality, and Shake Shack had just gone public, and he barely had the bandwidth to mentor his own staff. But "that kind of began what was a many-, many-year conversation," Meyer now says of his firm's current interest in Tacombi. "It didn't happen overnight."
By the end of 2021, Meyer had changed his mind. He says the real value proposition of the company is not simply its tacos or even its tortillas but in its concept of "Mexican Hospitality," which — as it's explained to me — sounds suspiciously similar to "good service." Incoming Tacombi employees hear about the company's 19 core tenets, including "Know Our Menu," "Offer Guests Your Full Attention & Focus," and "Be Better Every Day," which are perhaps not revelatory in concept. But how many companies, really, offer a customer experience that is genuinely pleasant? This is how Meyer built his own empire, and he believed Wolos had a knack for, in his words, creating "a sense that the person providing the hospitality becomes happier themselves when they deliver a great experience."
Tacombi's grocery line, Vista Hermosa.
Photo: Tacombi
Even still, it helps that the items being delivered are, for the most part, very good tortillas: pliable, not crumbly or gummy, and filled with actual flavor. "If you have a good tortilla, you can make anything into a stellar taco," says Steven Alvarez, an English professor at St. John's University who teaches a course in taco literacy. "They sell some of the best flour tortillas in the city." Alvarez likes them so much that, during the pandemic, he would drive to the Tacombi in the Empire State Building and buy ten-to-12 packs at a time. "They thought I was crazy," he raves.
The natural next step for Wolos was chips, or "totopos," which are tortilla chips made from sliced-and-fried corn tortillas. This process does not sound especially unusual, but COO Laura Merritt, who started out at Frito-Lay, assures me that it is: "The way companies make tortilla chips — I have to now do air quotes — is that you make this big wad of dough, and it rolls through almost this triangle cookie cutter. It's literally stamping out triangles of dough" before frying, "which is not authentic and creates an entirely different crunch and mouthfeel."
In November, the company moved its own tortilla factory from a 5,000-square-foot facility in Piscataway, New Jersey, to a space in Sunset Park that is nearly six times larger. The restaurants will account for 85 percent of the company's business for the foreseeable future, but they are only the beginning: "Someday, a customer might walk into a Tacombi, and someone might convince them to use our website to book their vacation in Mexico," Wolos imagines. "I think it can be this service to get people to all the different pieces of the Mexican experience." After all, the best way to connect with Mexico, Wolos points out, is to go to Mexico. Or, failing that, to the Tacombi that's probably about to open on your block.