Scarr Pimentel's profile in the fashion world has grown since he opened his small Orchard Street pizzeria, but he says he has no interest in becoming a celebrity himself.
Photo: Sinna Nasseri
Scarr Pimentel is sitting outside a coffee shop on Lafayette Street, keeping an eye on his Mercedes. He waited nearly two years for the midnight-blue G-Class SUV, owing to a full customization. It's parked in a clearly marked loading zone, but Pimentel — dressed in Supreme camo pants and a black skull-and-crossbones sweater — doesn't seem bothered by the idea that someone might ask him to move it. He's more interested in the jerk chicken that his cousin and right-hand man, Audie Villot, just brought over from a truck on 8th Street. "It's really good," Villot confirms between bites.
Pimentel remembers a Jamaican place on 125th Street where he went when he was 17 and selling beepers nearby. "They never made enough food for the day. I used to come in at one or two — they'd come out of the back always sucking their teeth." Villot nods: "Their food was fire."
Pimentel, who is 42, is a New York–restaurant lifer. "I've cleaned toilets, I've worked in kitchens, I've worked everywhere," he says. Six and a half years ago he opened his own place, Scarr's Pizza, on the Lower East Side. It is often called the best slice shop in New York City, which would make it, in turn, the best slice shop in the world.
A $3.75 cheese slice from Scarr's is very good. The sturdy crust is thinner than you'd expect and somehow lighter. The sauce is vibrant. When the 750-square-foot space opened, it was probably the only slice shop in New York that sold bottles of skin-contact Gewürztraminer. Yet this does not fully explain the crowds that line up each day or the tourists who travel to New York specifically to eat some of Pimentel's pizza or the sneaker collector who paid a six-figure sum for Nikes stamped with the Scarr's logo. Scarr's Pizza has become an unlikely hub for food nerds and hypebeasts alike, and it is now moving across the street to a larger space that matches the growing fame of its easygoing owner.
"Scarr!" calls a voice behind us on Lafayette Street. It belongs to a small woman wearing a long coat and a short top that exposes her midriff. "Great to see you," she continues. "I text you, like, all the time."
He smiles back. "You do?"
Pimentel, of course, has access to the same forms of communication as everyone else, but he mostly seems to ignore them. "People think I'm rude," he concedes. "I'm not rude." He's just not interested in idle pleasantries or kissing anyone's ring. "I don't do that stuff. I've never done it in my life; not going to start now."
Scarr is his real name, though he doesn't know the story behind it. He mostly grew up in Harlem, raised by Dominican parents, living with his mother until he moved out at 15. "I had to cut my mom off," Pimentel says. "My dad wasn't getting involved, so I was like, 'I'm out.' " He had no plan; his grandmother took him in. "Then my cousin came outta jail," Pimentel says, "and I had to sleep on a plastic-covered sofa for two years."
He got his first job soon after. His best friend's mother — then the general manager at the downtown pizzeria Lombardi's — knew someone, Emilio Vitolo, who'd recently bought a red-sauce restaurant on Houston Street. He called it Emilio's Ballato, and he needed people. Pimentel got hired as a busboy. "Lunchtimes were dead, and I was like, Damn, what is this place?" he remembers. Then he started to work nights: "I'm like, Holy shit. You'd see, like, Lenny Kravitz, L. A. Reid, Iman, David Bowie — I didn't know what celebrity haunts were at the time."
Pimentel learned to make the focaccia dough for the restaurant. From there, he moved to pizza at Lombardi's, and Artichoke, and the original Joe's in Greenwich Village. Eventually, he saw an opportunity for a better kind of pizza, one inspired equally by the slices of his youth and his childhood trips to a family farm in the Dominican Republic, where the fresh produce and poultry were a revelation.
Farm-to-table pizza was not new a decade ago, but the approach was still reserved for fork-and-knife Neapolitan places that imported flour from Italy and made sausage with local pork. Pimentel's idea was to apply that same rigor to a slice. He started reading about the benefits of fresh flour and the additives found in cheaper commercial brands. He wondered what would happen if he made dough with his own flour. "I was a skeptic, but I fucked with it a few times in my apartment," he says. "I was like, I'm onto something." Pimentel assembled a small group of investors and, with $150,000, opened Scarr's Pizza at 22 Orchard Street on March 1, 2016.
Inside Scarr's Pizza.
Photo: Sinna Nasseri
The other person who has been instrumental to Scarr's is Meagan Pimentel, who met Scarr in 2006 and married him in 2012. "Scarr was working for other people — this was the era back when it was, like, cool for these people to act like dicks — and he is such a happy-go-lucky guy," she says. "So it was finally him being in control of his own career." At the time, Meagan had a corporate job. She'd head home from her office each night to change, then work the bar at Scarr's. Pimentel's cousin and partner, Los Franco, was doing prep and dishes, while Pimentel made the pizza up front. For the first few months, they had no employees. "The best feeling was like, Oh my God, we hired a prep guy," says Meagan, who has long been Pimentel's unofficial gatekeeper and the restaurant's de facto publicist.
"Ever since I met Scarr — from day one — I knew he was gonna open up a pizza shop," says Sabrina De Sousa, a co-owner of Dimes, who came up in the downtown-restaurant industry with Pimentel. "And then he actually did it."
Scarr's was designed to mimic the look of a vintage pizza shop with wood-paneled walls, Formica booths in the back, and a Bud Man neon sign above the small bar. Downstairs, Pimentel milled his own flour from local grain and brought in canned tomatoes from California. His desire to make the shop look like any other no-frills counter worked too well to obfuscate his culinary ambitions.
"Nobody wrote about us," Pimentel says. "We were in the red for two years. It felt like we were blackballed" — by the food world, by journalists, by other downtown restaurateurs — "but I knew we had the best product in the city."
The pastry chef Natasha Pickowicz was an early fan and, in 2018, asked to have her photo taken there for a Grub Street Diet. "Scarr told me that was the first time a photo of his pizza shop had been in the media," she says. "I was just like, How is that possible? This is the best pizza in New York." A few weeks after that, the food writer Priya Krishna ran a story for Bon Appétit with the headline "This Slice Shop Is Low-Key Milling Its Own Grains." Less than a month later, the same magazine declared that Scarr's made the best slice in New York City. "That," Pimentel says, "is when the line started."
There is always a line outside Scarr's: Dudes in their 20s staying warm in their Arc'teryx jackets, Spanish-speaking out-of-towners who drive up in UberXLs, college kids who don't realize what a big deal it is that the coolest pizzeria in Manhattan is owned by a Black man.
"You try to find a Black-owned pizzeria," says DJ Clark Kent, the longtime hip-hop producer and record executive who first tried Scarr's at the urging of Villot. "Imagine if you go to a place, the food is really good, but the guy who owns it is a clown — you're not going to run around talking about it the same way if you got a cool owner." Clark was working with Nike and had an idea for a sneaker. "It was, 'Let me see if I can make a shoe to celebrate Scarr's, because of our friendship but also because of what it means to two Latino boys who love Air Force 1's and who can really respect where we come from in the streets.' " He approached Nike with the idea. "They said, 'Go for it.' "
In 2019, Nike produced what is believed to be just 48 pairs of its Scarr's Pizza Air Force 1 Low. The sneaker was distributed to friends and family but never officially sold. It features Scarr's signature orange-and-blue color scheme, along with the store's logo on its heel. "WE GOT THIS" is printed on the inner lip of the right sneaker, "WORD IS BOND" on the left. "The world went crazy when they saw those shoes," says Clark. For sneakerheads, there are grails — Off-White x Dunk Lows, Jordan High Breds — but the Scarr's sneaker is something even more rarefied in the minds of collectors. Last year, a pair of size 11.5 Scarr's Air Force 1's sold for $121,649 at auction, and another pair, a size 9, is currently asking $30,000 at Sotheby's. (The Pimentels say they don't know who's selling them; the dealer for the first pair is bound by an NDA.)
"After the Nike collab is when people started to look at the shop a little differently," says Meagan. "All of the bigger requests started coming through." Parties with Vogue and Marc Jacobs aren't uncommon. There are limited merch drops — tees to coincide with a pop-up in Tokyo, a collab with A24, an ongoing relationship with the streetwear brand Stray Rats — and this year, Pimentel appeared in a Timberland campaign. "They emailed us a bunch, and I think we didn't respond right away," he says. "I don't remember." He describes the partnerships as fun; he doesn't seek them out or work with an agent. I ask about his growing celebrity, and he brings up Vitolo, his first boss, who is still his friend today: "I'll be sitting with Emilio, and popular food people or celebrities come over to kiss his ass. He's cordial, but he doesn't give a fuck about it — that's what I admire about him."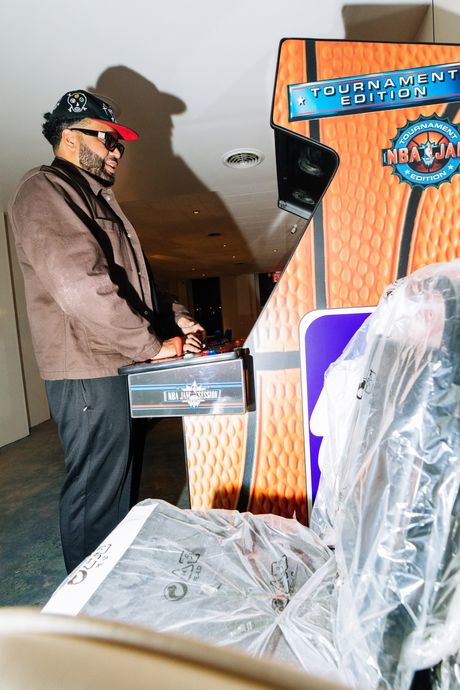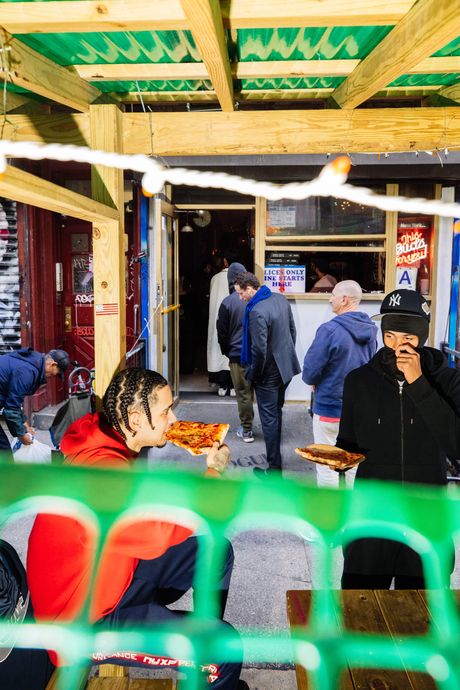 The new restaurant is a little more than twice the size of the first location.
Photo: Sinna Nasseri
Still, Pimentel understands the power of an image, especially as it relates to his own restaurant. Pizza places in New York tend to be named for some guy: Mario's, John's, countless "original" Ray's. Scarr's is no different, but Scarr himself is different. He's the pizza guy with the Supreme drip and the all-custom-everything G Wagon; the pop-up in Japan and a Timberland deal. This wasn't an accident.
Neither is the new store across the street, where the "Scarr's PIZZA" neon is up, the NBA Jam game has been delivered, and the blue banquette is installed. Inside, it's been finished for a while; the opening was delayed by a slow-moving liquor-license application. ("I was like, What's going on? It's just a transfer.") The license is crucial because the space has room for a full bar. When it's open, it will not be a significantly different Scarr's, but it will be more Scarr's. I ask Pimentel if he's going to change the menu at all. "We're going to do calzones and maybe chicken fingers or baked pasta like lasagna," he says.
After that, 22 Orchard will close briefly for a renovation before reopening. The first plan was an all-vegan slice shop, but then Pimentel had another idea: "Oh-ma-ka-say," he says, drawing out each syllable, a sushi counter with a chef from, as Pimentel puts it, "the Jiro tree." He won't tell me anything else, such as the name of the chef or the name of the new restaurant. I drop it at the time and decide to follow up a couple of weeks later, hoping Pimentel will reveal a bit more. He doesn't. Instead, he texts back to tell me that he's in Dubai and avoids the question completely.